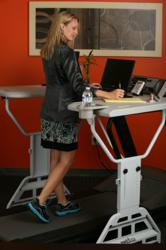 Scottsdale, AZ (PRWEB) November 29, 2011
The term mobile workers evokes visions of active, on the go employees who could not possibly suffer from a lack of activity and are immune to the stresses of office bound employees. However a new study, conducted by enterprise mobility firm iPass, has uncovered a completely opposite reality which should alarm employers. The study found that mobile workers suffer more mental and physical challenges than their corporate office counterparts. TrekDesk treadmill desks offer companies a unique solution to combat these health and productivity challenges.
The iPass study surveyed 2,300 employees at 1,100 companies worldwide. They found that mobile devices have increased the pressure that information workers feel to perform since they are technically never out of the office. The iPass study found that mobile workers, on average, work 240 more hours per year than the workforce (five hours more per week). 56% of the mobile workers exercise sporadically or not at all with 60% of the non-exercisers blaming work for their inactivity and another 20% citing a lack of time.
Sleep patterns were disrupted as well with 62% of the respondents reporting less than seven hours of sleep per night and 52% feeling that their job affected their quality of sleep.
Lack of exercise combined with less hours of sleep is a recipe for a health and productivity disaster within a corporation. Simply incorporating treadmill desks at corporate headquarters, satellite and home offices would allow workers to reduce stress, exercise more, and sleep better boosting productivity and lowering health care costs, stated Steve Bordley, CEO of TrekDesk Treadmill Desks.
Designed to fit any existing treadmill, TrekDesk treadmill desk is an affordable, full sized, height adjustable workstation that allows individuals the opportunity to gain the necessary amount of exercise daily to maintain health, prevent disease, strengthen muscles, boost mood and productivity, without requiring additional time during the day or extra motivation. Workout at work with TrekDesk. No sweat!
TrekDesk is currently available for sale online at TrekDesk.com for $ 479.00 including free shipping.
Join the TrekDesk Movement Revolution to learn more on TrekDesks Facebook page.
###
More IPass Press Releases